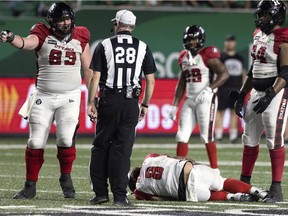 Article content
The coming hours and days could get even more challenging for the winless Ottawa Redblacks, who could be staring at a lengthy absence for starting quarterback Jeremiah Masoli.
Article content
The Redblacks may not know the status of Masoli, who was chopped to the ground on a cheap-shot hit by Saskatchewan defensive lineman Garrett Marino in the Roughriders' 28-13 win Friday night in Regina, for a day or two as they wait for imagining results on what appeared to be a knee or leg injury. But Masoli had to be helped off the field and was later on crutches.
Article content
So what's next if Masoli is sidelined? Caleb Evans has been the backup quarterback since Day 1. Behind him are Tyrie Adams and newcomer Breylin Smith. Evans, in his second CFL season, was forced into starter duty a year ago after injuries to Matt Nichols and Dominique Davis and looked good at times despite an underwhelming surrounding cast. If it's an extended Masoli absence, do the Redblacks try to trade for an experienced player, maybe Montreal's Vernon Adams? Others? Let the speculation begin.
Article content
Back to the hit on Masoli. It'll be interesting to see the reaction of the Canadian Football League, which is all about protecting quarterbacks. There has to be a suspension of Marino, who seems to be building a résumé full of these things, but how long will it be? And, while the league ponders what action it will take, it should also pay close attention to Marino's theatrics — the flexing, the posing, the chest-pounding — all of the clownish stuff that doesn't represent the Roughriders organization and its proud fan base. There's also this: If Marino was saying racist stuff, as has been alleged, there's no way his teammates want him back in the Riders locker room.
The league may also take a closer look at a hit by Ottawa offensive lineman Dino Boyd that left CFL sack leader Pete Robertson of Saskatchewan injured, with reports suggesting it may be a broken foot.
Article content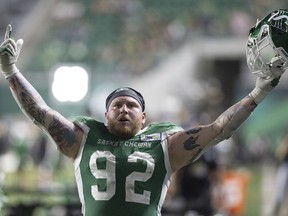 The Redblacks were a thousand levels of angry after Friday's game. Receiver Nate Behar, knowing full well he may get fined by the CFL for speaking out, lashed out at Marino.
"That same dude who talks s— in the bottom of a pile, that same dude who went low on one of the best quarterbacks, one of the best dudes in this league … I literally cannot believe what I witnessed," Behar said. "That was the most ridiculous thing I've seen. People scream and cheer for that?"
It was a chippy game, with questionable unpenalized hits both ways. Behar said Marino kicked it off the night before the game at a Regina restaurant where the Redblacks were eating dinner.
"He came up and said some crazy stuff to us, like it's Friday Night Lights in Texas," Behar said. "Grow up, bro. Nobody gives a damn about you. He put this in motion at 7:30 p.m. (Thursday). I don't care if we have to play them again. I'm sure they're all going to be yipping and yapping … 'Behar, you're this, Behar, you're that.' I don't care. It's bulls—, it's absolutely bulls—."
Article content
It'll be tough to get beyond yet another loss; the Redblacks record is 0-4. But, with or without Masoli, they quickly need to move past it and focus on next Saturday's game in Hamilton against the league's other 0-4 team, the Ticats.
"I told the players our record is our record," Redblacks head coach/offensive co-ordinator Paul LaPolice said. "We're 0-4, that's what we are. We deserve it. We play an Eastern team next week, it's a four-point game. We have to find ways to improve and put ourselves in position to be better. Stay together, confirm the mistakes and get better. I believe in the people we have in this room."
Behar said he was "going to hope we're motivated as hell. You've got a fire burning. I'm going to try to take the positive and say we're going to be jacked up as hell to come and lay the wood and make sure nobody can put a hand on us like that again. We're going to make sure we do everything we can to make sure nobody can get home (and hit the quarterback) — whether it's cheap and early or late or whatever. We're going to be on our blocks until two whistles go because that can't happen again."
Article content
While the offence put up big yards in Games 1 and 2 of the season, but scoring just one touchdown in 19-17 and 19-12 losses to Winnipeg, then scored three touchdowns in a 34-31 defeat against B.C., there were some major stumbles against a tough Saskatchewan defence. The offence just couldn't get into much of a rhythm.
So what's wrong?
"It's on everybody," Behar said. "When we were doing it right in the first quarter on that one nice, long drive, it feels so easy, so effortless. You hit your six-yard outs, you hit your little drag routes, you get an eight yard pop … It has to happen every time."
The Ottawa defence gave up 181 yards in rushing on Friday, which allowed Saskatchewan to dictate the pace of the game.
"It's on me," Redblacks middle linebacker Avery Williams said. "Any time they have a good running game, it's on me. If they're running the ball, the MIKE linebacker has to stop them. The D-line had five sacks, they played well. Put this on me."
Article content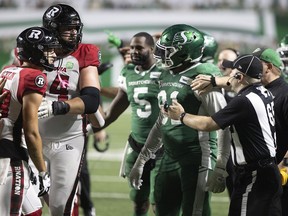 REDBLACKS REPORT CARD
Offence F: How can it be anything other than a failing grade after scoring just 13 points and just one touchdown on a Jeremiah Masoli pass to Nate Behar. Running back William Powell, in his second game since returning from an Achilles injury, had 58 yards on 11 carries. But Ottawa couldn't get much going. Masoli completed 19 of 27 passes for 210 yards. Caleb Evans, in relief after Masoli was injured, completed two of six for 58 yards.
Defence C-: Some really good things, like five sacks — two by Lorenzo Mauldin IV and one each by Davon Coleman, Tre Hornbuckle and Praise Martin-Oguike (who also had seven tackles). But Saskatchewan ran the ball down Ottawa's throats. In his first start, Douglas Coleman had seven tackles. Adam Auclair, filling in for linebacker Frankie Griffin, had six tackles.
Special Teams A: Lots to like. Lewis Ward kicked a couple of field goals. Richie Leone was booming the punts, averaging 52.2 yards (with a terrific net average of 48.8 yards).