"We are aware of issues currently affecting our networks and our teams are fully engaged to resolve the issue as soon as possible."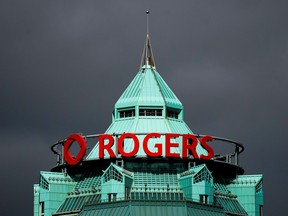 Article content
A widespread network outage from Rogers Communications Inc. has left many customers without mobile and internet service Friday morning and is causing problems forpolice, courthouses, Service Canada passport offices and Interac.
Article content
A notice on the Toronto-based telecommunications company's website said the outage is impacting both its wireless and home service customers and is also affecting phone and chat support.
"Our technical teams are working hard to restore services as quickly as possible," said Rogers spokesperson Zac Carreiro, in an email.
Article content
"On behalf of all of us at Rogers, we sincerely apologize to our customers, and we will continue to keep you updated as we have more information to share, including when we expect service to be back up. Thank you for your patience as we work to resolve this issue."
Asked what caused the outage, how many customers were impacted and where and when service might return, Rogers spokesperson Chloe Luciani referred The Canadian Press back to a tweet promising more updates an saying, "We know how important it is for our customers to stay connected."
Article content
The outage disrupted services across retailers, courthouses, airlines, credit card processors and police forces, pushing many to delay business transactions, serve customers through analog means or even flock to coffee shops where they could find Wi-Fi.
Among the most serious impacts were warnings from police in Toronto and Ottawa, who reported connection problems when Canadians called 911.
"If your call fails, please try again, or call from a landline or cellphone with another provider," Ottawa Police said on Twitter.
Service Canada tweeted it too was wrapped up in the outage with call centres and offices, including ones that issue passports, affected.
The outage stands to exacerbate passport delays that have left Canadians lined up outside Service Canada offices for lengthy periods of time as the government works through a backlog.
Article content
Many retailers and business were also facing trouble when trying to accept payments because Interac, which processes electronic financial transactions, said it's online and checkout debit offerings and e-transfer services were impacted.
As a result, the Confederation Bridge in P.E.I. was unable to accept debit Friday morning and Canada's Wonderland in Vaughan, Ont. said amusement park goers could only pay with credit card. They were told on Facebook they must be able to access e-tickets on their phone or bring printed tickets to the park, if visiting Friday.
The outage even pushed some broadcasters, like CBC Radio in Kitchener and Waterloo, to have to switch up their programming.
"The Morning Edition listeners will be hearing Metro Morning today. We will be back with you as soon as possible," CBC said.
Article content
Downdetector, a website that tracks outages, showed people started reporting problems with Rogers' service around 4: 30 a.m. EDT and by 7 a.m. 20,000 reports had been logged.
Customers in Toronto, Kitchener, Moncton, Ottawa and Mississauga logged the most reports on the website with 45 per cent saying they were experiencing a total blackout, 29 per cent seeing issues with mobile internet and 26 per cent facing landline internet problems.
Downdector also showed spikes in outage reports for independent service providers like TekSavvy, who often piggyback onto Rogers' network.
TekSavvy said in a tweet that it was being impacted by the outage and having trouble with contact centre phone lines, but had no estimate for when there could be a resolution.