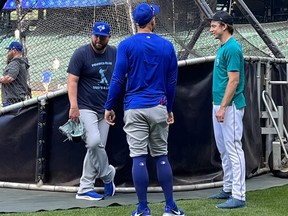 Article content
SEATTLE – Ryan Borucki isn't the vindictive type and he has mostly gratitude for his professional life with the Blue Jays.
Article content
But the lefty reliever is also a competitor, so you better believe he loved what went down at T-Mobile Park late Friday night.
Go figure how the game of baseball works – that a Jays team struggling both on the mound at the plate, was taken down in part by a player they released in late May.
It may not have been the biggest win of Borucki's career, but when the Illinois native threw two scoreless extra innings in his team's 5-2 walk off victory, it was accomplished with a healthy dose of redemption.
Article content
"We play good defence and pitch well and hit well … and we are chasing the Jays," Borucki said when we asked him how life in the Pacific Northwest has been treating him. "I really, really like it here. It's a fun team to be a part of."
He probably liked it more when he woke up on Saturday after one of the more clutch performances of his pro career, an 'I'll show them' moment he'll never forget.
Article content
Borucki had nothing but good things to say about the organization that gave birth to his pro career. But with a new braintrust that trusts him, he's also talking like the self-assured pitcher he had been at various stages of his time in Toronto.
"I feel really confident and I feel like my delivery is in a really good place," Borucki said in describing his baseball rebirth. "I've been throwing the ball really well. I've been riding a lot of confidence lately and I just want to keep it going."
The results are bearing that out.
In 11 games with Seattle, Borucki has a tidy 2.53 ERA and has allowed just one earned run over his past 10 appearances. In Toronto, he had lost confidence of management after fashioning a bloated 9.95 ERA in 11 appearances, leading to his exit from the only organization he had known.
Article content
Borucki, who was drafted by the Jays in the 15th round of the 2012 went through the full experience with the Canadian franchise.
He began his career up on the lowest rung, up the road from here with the Vancouver Canadians and was a starter as he rose through the ranks with some of the Jays top prospects.
There was also Tommy John surgery that kept him out fo the 2021 season. Then began a tour of the entire Jays minor league roadmap: First Vancouver then on to Bluefield and Dunedin. Moving along to Lansing and New Hampshire and Buffalo, he finally make his big league debut on June 26, 2018.
So when he was designated for assignment earlier this year, there was some sting. 
"It was tough, obviously," said Borucki, who recorded his first win since May 2, 2021. "It was 11 years of my life. There were a lot of tough good byes to guys who meant so much to me in my career.
Article content
"(Bench coach John Schneider who managed him in Vancouver) met me when I was 18 years-old. Saying good-bye to him was like losing a friend."
Getting the chance to reboot his career out here – just down the road from the Vancouver area where his wife's family is paying off.
"The fresh start kind of helped, just coming into a place where they kind of have a  different mindset," Borucki said. "I just came back to using all three of my pitches and attacking the zone again, which is good."
NO GO GAUSMAN
As expected, Jays manager Charlie Montoyo said that right hander Kevin Gausman (bruised ankle) won't be able to make his most recently re scheduled start on Sunday.
"He doesn't feel 100 per cent yet so we're hoping Tuesday now," Montoyo said. "I'm sure he'll throw again tomorrow and we'll see."
Article content
So what now, for what could be a pivotal finale to the four-game series? Montoyo was hoping not to have to use Max Castillo on Saturday so that he could be the bulk guy in what will be a bullpen day for the Sunday matinee.
"You need your starters to give you a chance every day," Montoyo said of the rotation struggles of late. "That's what starters have to do. It starts with that guy on the mound and we need to get to that point."
STAR STRUCK
With Alejandro Kirk and Vlad Guerrero Jr. heading to Dodger Stadium for the midsummer classic, the Jays will have multiple starters for the all-star game for the sixth time in franchise history.
Kirk joins Ernie Whitt, John Buck and Russell Martin as the only all-star catchers in club history and the first to start.
Article content
Meanwhile, there's as chance Saturday's starter, Alek Manoah, and closer Jordan Romano could be added when pitchers are named on Sunday.
"Getting picked for something like that would be pretty cool," Romano said. "Those are kind of little goals on the way that you do set for yourself. That's something coming to the big leagues that you want to get to, being an All Star. That would be pretty cool."
AROUND THE BASES
On Sunday, the Jays will finish off a stretch of 18 games in 17 days spanning four cities and four time zones with no days off. Their record on that stretch heading into Saturday night's contest: 6-10 … Friday's excruciating 5-2 loss in 11 innings was the fifth time the Jays have been walked off this season as their record in extras dipped to 2-5.