Here are today's Ottawa Sun letters to the editor.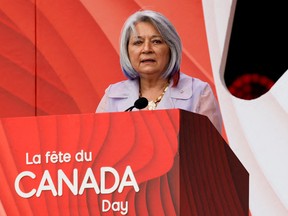 Article content
NO NEED FOR GG OBJECTIONS
Article content
There is absolutely no need for any person in Canada to object to the appointment of Mary Simon to be our Governor General, with her "First Peoples" identity. She made a clear commitment to learn French. Most revealingly, the Inuit never imposed their language on the colonizers whose "residential schools" imposed foreign cultures, languages and spirituality on the Inuit.
Yes, it is time we made all efforts to come to a reconciliation with our Inuit such as the full respect to the historic first appointment of a credible and respected Inuk woman to the position of Governor General in Canada.
It is our significant reconciliation actions with our First Peoples such as the historic appointment of Mary Simon that will contribute to our full Canadian identity.
Article content
ROMAN MUKERJEE
OTTAWA
(Agreed.)
EXHIBIT A
This week my daughter took two kids aged five to the Canadian Museum of Nature. (Sounded like fun — sort of, but not really.) Anyway, when she told me how much "the fun" cost, I said "Oh, c'mon, that's not possible," so she sent me a photo of the three tickets. She also said the cost was higher because of some exhibit on the fourth floor, to which I said, "That's what museums are — exhibits."
Several times a year, every year we talk about affordable housing.
Summer is here, not for the year but from now until September. Regardless of the "exhibit", the cost of admission to the Museum of Nature for two kids and one adult at $20, $20 and $27 is not what I would call affordable.
If my mother were alive today, she would have had to choose between a trip to the grocery store or a trip to the museum, and I'd bet dollars to donuts that many mothers today are in her shoes. Quite frankly, it brings tears to my eyes because mothers will have no choice but to choose the grocery store.
Article content
Summer's too short. Museums should be affordable, not priced so they aren't.
JILL YOUNG
OTTAWA
(Thanks for reading.)
LOT MORE TO WORRY ABOUT
To everyone in a hurry and annoyed with the airport lineups, lost luggage and your poor pet that had to spend the night in his cage, you'd better realize that those are the least of your worries. If they can't look after your luggage, aren't you worried about them servicing the plane, checking that the wheels don't fall off, performing engine checks and servicing — there's a lot to check on a plane that flies with hundreds aboard.
If they can't keep track of your luggage, how do they know that something bad isn't in the luggage? What's going on inside the airport is nothing compared to what is or isn't going on out on the runway. Is safety a priority?
TOMMY OWENS
OTTAWA
(Some claim the riskiest steps in air travel are the car drives to and from the airport.)
DISCIPLINE DEPARTED
The whole principle of the military is discipline, for so many different reasons. Without discipline, there is no control and that increases the chance of disaster. But then looking at today's military, it appears control is already lost from the top down.
PETE MCLELLAN
BROCKVILLE
(Thanks for reading.)