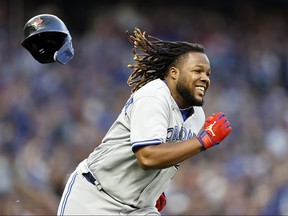 Article content
SEATTLE – There was a reason Blue Jays manager Charlie Montoyo had a warm embrace for starter Ross Stripling when he came to the dugout after five innings on a spectacular Pacific Northwest summer Friday night.
Article content
For one, the right hander went semi-deep in a game where his team desperately needed it.
And for another, the score was 2-2 removing the hefty pressure his hitters have been carrying for several weeks. It was an unfamiliar feeling for the manager and his team given some of the starting pitching struggles in recent weeks.
Article content
Once again, the struggling Toronto offence couldn't come through, however, as the Mariners walked it off for 5-2 extra-innings win on a monster three-run homer by Eugenio Suarez in the 12th.
It was a gutting blow for the Jays, a dagger further thrust when the winning pitcher was a lefty they DFAed earlier in the season – Ryan Borucki – who pitched shutout innings in the 10th and 11th.
Toronto batters banged out a dozen hits on the night, but could only get two across continuing a blight that has seen them score just 14 runs in their past two games.
Article content
It was a massive victory for the Mariners, winners of six in a row and a team no longer on the fringes of the AL wild-card race, now just two games behind the Jays.
Prior to the game, Montoyo tried to ease that burden on his hitters with some advice to get back to the intimidating offence they are built to be.
"I don't want to feel like I'm defending my guys all the time … we still have to find ways to get on base," Montoyo said. "But it's tough to come from behind every day.
"This month (Jays pitchers) have led in ERA in all of baseball. It's been tough."
Tough on the pitching staff, which has been overworked. But also tough on hitters trying to make things happen when an early hole is created.
This one was on the offence, however, a group of Jays hitters that had managed a combined 12 runs in their previous five games, a dormant attack that had cost them.
Article content
"This month has been tough," Montoyo said. "When you're behind, everybody feels the pressure and that's what's going on. Everybody's trying to do a little more.
"Talking to the guys, I told them to take it one bat at a time. If you don't get your pitches, give it to the next guy. That's what we have to do."
There was certainly some progress in that approach as the Jays repeatedly got runners on base, slapping out 12 hits in total. Cashing them in was the issue, illustrated by an exclamation point bases-loaded strikeout by Bo Bichette in the fourth.
Through eight innings, the Jays were just 2-for-16 with runners in scoring position, an ailment that has dogged them at various points this season.
On the other side, Stripling was doing his job of keeping the Mariners in check, throwing a season-high 94 pitches in his five innings of work.
Article content
He allowed seven hits and a walk but knuckled down when needed – including six strikeouts – to limit the run total to a deuce.
With the loss, the Jays fell to 0-2 in the four-game weekend series, setting up a stellar Saturday pitching showdown between current Toronto ace Alek Manoah and his predecessor in that role, 2021 AL Cy Young Award winner, Robbie Ray.
The defeat was a sixth in their past seven games and squandered an opportunity to leapfrog the Boston Red Sox and into third place win the AL East.
GAME ON
The Jays dodged a bullet in the 10th when J.P. Crawford hit a two-out single that was fielded boy Lourdes Gurriel Jr. whose bullet throw to the plate had runner Abraham Moro by three steps to send it to the 11th … After Stripling's solid five innings, the Jays bullpen delivered a welcome solid effort, starting with a three-up, three-down sixth from Yimi Garcia, who was activated from the injured list (back strain) just prior to the game … A fired-up Adam Cimber – who grew up in the Seattle area as a big M's fan – got the next four outs before giving way to Tim Mayza, who finished off the eighth …Veteran David Phelps was equally pumped up as he pitched a scoreless ninth to send it to extras … Tough go for former Jays closer Ken Giles, who had worked his way back from Tommy John surgery and was pitching for the Mariners in the eighth. But after a slider to Santiago Espinal, Giles called for the trainer and exited in just his fifth game back. The veteran has pitched just eight innings since 2019..