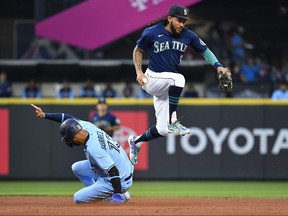 Article content
SEATTLE — The bigger the game, the higher the stakes, the greater the attention, the more a game seems made for Alek Manoah.
Article content
And the way things are going with the pitching staff these days, the more the Blue Jays need their ace.
In these situations, it's as if the intimidating right-hander brings all 6-foot-6 and 285 pounds of himself to a start, hoping to drag his team along with him.
But as good, bordering on outstanding, as Manoah was in a riveting pitching duel at T-Mobile Park on Saturday night, the big man can't do it all himself.
Article content
The scuffling Jays haven't been able to do much to support any of their starters over the past week. And facing an all too familiar elite arm themselves in the form of former Jay Robbie Ray, their latest attempt to snap a cold streak was always going to be a tough assignment.
So when a mostly flawless effort by Manoah came undone with one mighty swat from the Mariners' Carlos Santana in the seventh inning, it felt as though the night was as good as done for a Jays offence that just can't score.
Article content
Santana's two-run homer was the difference maker as the Mariners claimed a 2-1 victory in front of a crowd of 41,210 heavily loaded with Western Canada based Jays fans.
The loss furthered the Jays free fall to eight losses in their past nine games and three consecutive defeats here in the Pacific Northwest.
The Mariners, meanwhile, have won seven in a row and have moved to just a game behind the Jays for thee third wild-card spot in the American League.
A loss tomorrow by a Toronto team that has run out of starting pitchers and will go with a bullpen day, would erase what remains of that margin.
Manoah's brilliance — he allowed three hits and just those two runs while striking out seven over 7.1 innings — was essentially wasted when the bats couldn't support him.
Article content
As difficult as the assignment was against Ray — who is back in the Cy Young form he flashed last season (an 0.80 ERA in his previous five) — the benign approach at the plate is killing them.
The fifth inning typified so much of what has gone awry with the Jays offence of late. They loaded the bases when Ray issued back-to-back walks to Alejandro Kirk and Teroscar Hernandez then allowed a Lourdes Gurriel Jr. single.
A situation that insisted on getting at least one across ended in failure as Matt Chapman struck out, Santiago Espinal meekly popped out to second out and Raimel Tapia hit a ground ball into a force out.
The Jays tried to mount a ninth-inning rally when Vlad Guerrero Jr. and Kirk provided one-out singles. But after Teoscar Hernandez grounded out to first and Lourdes Gurriel Jr. was intentionally walked, Chapman hit a ground ball into an out to snuff out the rally.
Article content
It's been a frustrating run for the Jays, one that keeps spiralling downward.
"I'm not making excuses for my team, but it's a grind," manager Charlie Montoyo said prior to the game. "Guys can feeling. They're human beings.
"I don't feel the frustration … Nobody is happy we are having a losing streak."
The worst part is that no one can see when it might end, either. The offence, built to be a force, has pushed just six runs across the place here in three games and 12 in its past five games.
The lone run came in the sixth inning a solo homer off the bat of George Springer, who lined a Ray offering over thee wall in right field.
The team is trying everything to snap out of it, including a players only meeting that happened earlier in this road trip. The offence can't get untracked, striking out 10 times on Saturday, including six from the right hand of Ray, who went six innings and plowed just three hits.
Manoah was even better, dealing at his beastly best, until Santana touched him for that lethal blast.
Normally two runs allowed would be something for this Jays team to shrug its collective shoulders at, but no the way things are going lately.
In the 15 hours before they are to play again, they'll have to rally to avoid a sweep and do so with uncertainty on the mound.