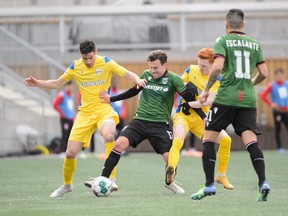 Reviews and recommendations are unbiased and products are independently selected. Postmedia may earn an affiliate commission from purchases made through links on this page.
Article content
Throw away that long-ago season-opener between Cavalry FC and Atlético Ottawa.
Article content
Except perhaps for the vengeance angle where Calgary's professional footie side is concerned.
That's something Tommy Wheeldon Jr. always likes to play up in getting his troops ready for a big match.
"I'm not sure what you're talking about — I don't use any kind of psychological warfare like that with the guys," said the veteran gaffer with a cheeky grin ahead of Saturday's rematch between Cavalry (7-3-2) and host Atlético (7-3-3) at Ottawa's TD Place Stadium (5 p.m., OneSoccer, OneSoccer.ca.).
Article content
"No … our guys are proud players," continued Wheeldon Jr. "We've only lost two games all season, and one of them was to Ottawa. So we see them as a challenge now. We lost on a penalty (kick) to Ottawa (April 9), so (Saturday) is a great challenge now."
Article content
Indeed, it is, with Atleti the surprise of the 2022 Canadian Premier League season.
The second-year club has risen from the ashes of last year's six-win bottom-place campaign to become a contender.
In fact, Atleti is tied atop the CPL table with Cavalry on 24 points but having played one more game than Calgary's crew.
So it's a second-straight game — and again on the road — for the Cavs against the team next on their heels after last week's entertaining 3-3 draw with host Pacific FC (5-5-4).
"It's great, isn't it?" said Wheeldon Jr. of the constant battle to stay a step or two ahead of league foes. "They're meaningful games. When you have a winning record like we do, you're going to be contending against others that are trying to do the same thing.
Article content
"We enjoy it. Every game for us is just another good game in preparation for playoffs. The league table is nice, but it's like a 28-game qualifier for playoffs. So right now, we just see the regular season as another good game against another team that's in good form."
Atleti is certainly that.
The Ottawa side has one loss in the last eight games, going 5-2-1 in that span, with that drop coming — surprisingly — to FC Edmonton in a 1-0 decision. Since then, Atleti has won two-straight road contests — biggies in shutting out both HFX Wanderers FC and Forge FC.
It's a surge that has that crew already one win ahead of last year's full-schedule count.
A different squad, to be sure.
But then again, the Cavs are much improved since the season-opener in Ottawa, where they lost 1-0 on a late penalty converted by Brian Wright.
Article content
"I said after the first game we played with Atlético, that with the squad Fernando (Lopez) has put together and the coaching that Carlos (González) has done, you could tell that there was a different step in them," added Wheeldon Jr. "They'll be there at the end.
"They're very well-coached, and they're also very tactically versatile."
FREE KICKS
Cavs captain Mason Trafford returns to the squad from his yellow-card suspension, but the defence loses David Norman Jr. to a two-game ban handed down by the league despite his peaceful part in the early-game scuffle with Pacific's Manny Aparicio. "I feel for Davey, because he did nothing," said Wheeldon Jr. of his defender's non-response to a heavy shove from Aparicio. "And even through our appeal and video evidence, I'm baffled (with the suspension), to be honest. Davey's a really good professional, and he smiled and walked away from a chaotic situation and still got a two-game ban on top of the red card that happened (in the game). It's not his fault." … Cavalry forwards Myer Bevan (hamstring) and Joe Mason (back) remain out for this trip. Bevan likely won't be back at full health until August, says the coach … The Cavs remain down four long-term injured players — goalkeeper Tyson Farago (back), defender Tom Field (knee) and forwards Anthony Novak (ACL) and Fraser Aird (ACL).