Key events:
WICKET! Suryakumar c Curran b Jordan 15 (India 98-4)
From deep mid-wicket, emerges Sam Curran as Suryakumar flicks the ball towards the moon and Curran catches – seeming to jar his elbows in the process.
10th over: India 86-3 ( Hardik 3, Suryakumar 15) Fours apiece, as Hardik flays Parky back past the bowler's ankles and Suryakumar sends a wide one spinning through the covers. Chris Jordan somehow cuts off a wristy dab to the boundary with some audaciously athletic fielding. And that's half way, with India more contained than they like.
9th over: India 73-3 ( Hardik 3, Suryakumar 8) Chris Jordan, who bowled beautifully on Thursday, is thrown into the mix. He beats Hardik with a beauty – and Buttler summons Moeen Ali into the slips. How quickly a match can change, batting suddenly tricky.
8th over: India 69-3 ( Hardik 3, Suryakumar 6) Time for Parky, long sleeves and Suryakumar plays an inside out flick, up and flirty, to the boundary. Tip and run follows.
"Just a thought – Glesson's taken 3 wickets in his first 8 balls in international cricket. There can't be many – if any – people who've got off to a better start than that, can there?"
James Brough, I don't think there can! Especially when you count the calibre of batters: Rohit, Kohli, Pant.
7th over: India 61-3 ( Hardik 0, Suryakumar 0) A double wicket maiden! Northants and Lancashire's little secret makes the big time!
WICKET! Pant c Buttler b Gleeson 26 (India 61-3)
Two in two! Pant has a swing and edges through to Buttler who celebrates by throwing the ball high in the air. What a debut!
WICKET! Kohli c Malan b Gleeson 1 (India 61-2)
Kohli fails again! Marvellous catch from Malan scooting backwards and swallow diving.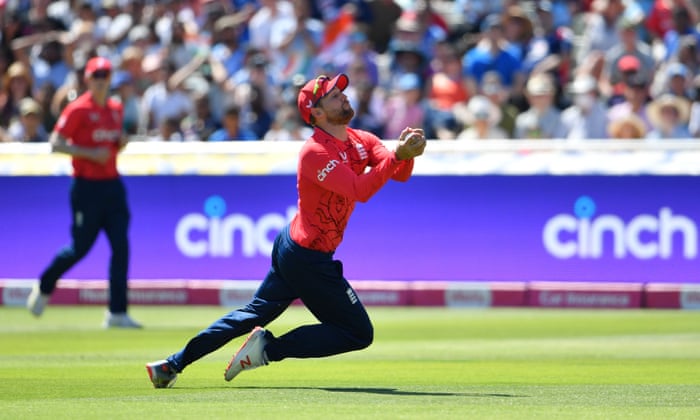 6th over: India 61-1 (Pant 15, Kohli 0) Moeen again, bowling at his (soon to be) new home.A couple of astonishing shots from Pant: six ooofing over mid-off, the second some magic – imagine someone limbo dancing while chopping salami. And that's the end of the power play.
5th over: India 49-1 (Pant 15, Kohli 0) Richard Gleeson's first ball in international cricket is a lovely fat dot – ignore the fact that the second is waffled over mid-on. And then the wicket! Congratulations!
Incidentally, Gleeson is the third oldest debutant in T20 cricket for England, ahead of him lie Darren Gough and Paul Nixon.
WICKET! Rohit c Buttler b Gleeson (India 49-1)
A debut wicket for Gleeson in his first over as Rohit swivels to hook but only top edges behind, where Buttler scurries and leaps with green gloves open. A delighted Gleeson roars and is engulfed by his teammates.

4th over: India 43-0 (Rohit 25, Pant 15) Moeen into the attack quickly, as he was on Thursday. Doesn't really do the trick as Rohit shuffles to the right and slams him through the covers for four, before pulling him in the opposite direction for four more.
3rd over: India 32-0 (Rohit 15, Pant 14) Willey gets some tap: Rohit slotting him over mid off for six before Pant belies his whack-a-mole image with the most dainty of late cuts for four. Willey tries to out-fox Pant – but it results in a couple of wides – and then the last ball is flicked over fine leg and across the rope.
2nd over: India 15-0 (Rohit 8, Pant 6) The bleached Sam Curran bustles in – 99 Red Balloons always comes into my mind when I watch him bowl (worry, worry, super scurry) . Pant wham-bams a slower ball straight back over his head for four.
The first email wings in. and touchingly it is about the late John Gwynne: "John's first commentating work was for BT's Cricketcall service in 1988, providing ball by ball commentary over the phone- revolutionary at the time.He was the Lancashire commentator ( of course ) and was as brilliant from the off as you'd expect."
Thank you Jon Salisbury ( Cricketcall's Nottinghamshire commentator).
1st over: India 8-0 (Rohit 7, Pant 1) David Willey has the ball, and the first runs come with a kitchen-sink slice from Rohit down to fine leg where Richard Gleeson doesn't fluff his first touch of the ball in international cricket. A quick single, and Pant has to hurry as Brook throws on the dive. Then a drop – Rohit drives a wide one and Roy fumbles on his knees at backward point – before the over finishes with a lofted six, easy as you like, over long leg.
Virat Kohli had a miserable IPL by his standards. But his recent T20 stats are decent:
Anyway, he's not opening the batting after all: the fireworks to be provided by Pant and Rohit. And here they come!
I struggled to hear the discussion on Sky between Broad, Morgan and Hussain due to connection issues. This seems to be the crux of it though:
Eoin Morgan and Stuart Broad are in the commentary seats today.
Sad news from Manchester: long-time Old Trafford PA announcer John Gwynne has died. RIP, John, one of cricket's great enthusiasts.
It's a full house under a scalding sun at Edgbaston today. Somewhere in the crowd are spotters, employed to keep an eye out for trouble after reports of racist abuse during the Test.
England win the toss and will bowl!
TEAMS
England: Jason Roy, Jos Buttler, Dawid Malan, Liam Livingstone, Harry Brook Moeen Ali, Sam Curran, David Willey, Chris Jordan, Richard Gleeson, Matt Parkinson.
India: Rohit Sharma, Virat Kohli, Suryakumar Yadav, Rishabh Pant, Hardik Pandya, Dinesh Karthik, Ravindra Jadeja, Harshal Patel, Bhuvneshwar Kumar, Jasprit Bumrah, Yuzvendra Chahal.
The news from Edgbaston is that Lancashire's Richard Gleeson is due to make his debut today – encouraging news for late developers everywhere.
Hello! We're back already – match two in a white-ball July rollercoaster, this the second T20 between the two top sides in the world.
The players are at Edgbaston, but I'm in Surrey, where my brother and his family have arrived from New Zealand without any of their baggage. Talking of baggage (sorry) – winning India will cast aside some of their foot-soldiers as the Test warriors return. Virat Kohli, Rishabh Pant, Ajay Jadeja and Jasprit Bumrah are all expected to wriggle back into the lineup.
England tripped up at the Ageas Bowl, a fifty run spanking, with Jos Buttler having to slither back to the dressing-room with a first-ball duck in his debut official gig as captain. But we expect the side to be similar, with a possible tweak to the bowling.
The action starts at 2.30pm BST – see you there!