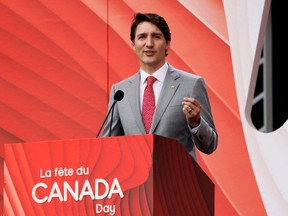 Article content
Everyone likes a political drama, so it's only natural that the story of Patrick Brown's disqualification from the Conservative Party of Canada leadership race has generated several days of great excitement across the country, dominating national political news coverage.
Article content
But Canadians shouldn't let it distract from the fact that whatever scandals are unfolding among potential future leaders, we've got much more meaningful problems happening with our current leader that are unfolding in real time and actually impacting our lives.
International rankings now place the mess at Pearson Airport as the worst in the world — as in, behind airports in third world countries and in theocracies and dictatorships. The creation of a committee — a committee! — of cabinet ministers as the magic bullet solution to this problem sounds more like a joke about how many Liberals does it take to change a lightbulb than a plan from people serious about efficient management.
When it comes to the case of political interference into the RCMP's investigation of the Nova Scotia mass shooting, all we can say with certainty is someone is lying and that's quite a cloud to have hanging over such an issue.
Article content
We've got a summer where gas prices are soaring and the cost of living is out of control and Liberals spend their time at the podium either deflecting blame or trying to hide the fact that many of them are no doubt happy that this economic turmoil fits just perfectly with their increasingly zealous climate agenda. ("Airports suck? Great, then maybe people will stop flying! Driving is too expensive? Great, then stay put!")
John Ivison writes in a recent column that a senior bureaucrat compared what was going on with the government to "a body rotting from the inside". That sends about right. Yet many Canadians are probably still under the impression that Trudeau remains in top form and that it's the Conservatives who are in crisis.
Article content
How has this happened? Some will say it's media bias that leans favourably to the Liberals. There's a lot of truth to this. For decades now, Canadians have been exposed to the tired narratives that conservatives are about to become extinct and can't possibly win the next election unless they do exactly what the most left-wing columnist at the Toronto Star instructs, or that they harbour villainous motives that must be incessantly pursued even when no evidence emerges.
But there's also the fact that stories about people and political drama garner more attention than process stories. It's about giving the people what they want. "Will Trump run again?" is an easier to discuss watercooler topic than analyzing how the Biden White House is faring with their plans to onshore the supply chain.
Article content
Let's not entirely blame the news preferences of the general public though. The insiders shoulder blame as well. Politicos of all stripes are notorious for preferring campaigns (hypotheticals) over governance and policy (real life). If it was up to them, we'd be in endless leadership campaigns, by-elections and general elections and that's all we'd ever discuss.
The problem is this set up leaves us poorly served as citizens and news consumers. Yes, leadership races should be heavily reported on. What's said today could be government policy in the future and those ideas deserve robust scrutiny.
But it also holds that whatever Patrick Brown, Jean Charest, Pierre Poilievre or the other candidates say has zero consequence on the lives of Canadians right now and for the foreseeable future. Only one of them will win this race and, if the NDP coalition deal terms are to be believed, that person won't even have a shot at unseating Trudeau for a couple of years. (I bet you wish you could get back those hours of your life spent on those "must-read" features about Erin O'Toole, eh?)
Let's definitely hold aspiring Prime Ministers to account. But let's also spare some time to hold actual Prime Ministers to account as well.