Key events:
100km: Pete Anon gets in touch: "And another question from someone who has just started road racing this year..
"My question is could Van Aert win the Tour outright? The bookies don't give him much chance of the outright win…is this because Van Aert will be crushed in the mountains? If so is it possible that a rider like Van Aert could defy the bookies and perform in the mountains and win it outright? By extension is there precedent for a non favourite to take yellow in week 1 and keep yellow all the way to Paris?"
The suggestion from the experts is that he's not got the physique for it, possessing too much muscle, that required for Classic and sprints, to haul himself up the great hills, though he has won on Mont Ventoux. Winning a Tour from the first week and holding on? I will throw that to the floor, but Laurent Fignon, in 1983, pulled off a shock win as a non-contender who came from the pack, but never led from the start. Geraint Thomas was a shock, too, but only because Chris Froome cracked in 2018. As I say, suggestions very welcome.
The gap is opening up, at 3' 53" from the leading trio to the Pogacar group.
110km to go: Van Aert's been the man of the first 100km, but he's up against a young American on a mission in Quinn Simmons. Van Aert, is also on a new bike now, having changed at 111km to go, that dodgy derailleur forgotten as he chases his two mates in the breakaway. He soon catches them up.
120km to go: David Hindle has had a rethink: "I wrote the last email just before this break formed. If Van Aert has it in his head he can do this and given the quality of the other two, stage profile, wind etc., the winner is amongst them now. That's the way races go. You could pull back a "normal" group of 3. But not one made of Van Aert, Simmons, Fuglsang. This isn't any kind of "normal". Very exciting though. Reminds me a bit of recent test cricket! In which case, would INEOS be the pre-bazball version of England?"
Van Aert is leading them down the descent, and flying along. The intrigue continues on what has been a highly exciting stage.
125km to go: Keith Pattinson emails in: "A question from a non-expert. Are the breakaways planned by the teams before the start? Or are the riders given license to make the breaks on a temperamental basis?"
Answer: yes, mostly, and usually but events, dear boy. In fact, many attacks will be planned months in advance when the stages are announced. But, say, today, Van Der Poel will have pinpointed it, but has no legs. And certain riders just attack all the time, like Pierre Rolland, which is good for the sponsors to have their logo up the front.
The gap is 3' 20" to Pogacar, almost five minutes to the peloton. Simmons and Fulgslang are chatting away quite merrily with Van Aert, who seems unruffled by his bike problems, because, well, he is Van Aert.
Van Aert in three-man breakaway
132km to go: Hang on! Van Aert, at the foot of this first climb, of around 2km, the Cote dez Mazures, suddenly suffers a problem. He has to get off his bike, and then is given a hand to fix his gears derailleur.. He's 20 seconds down on Simmons and Fuglsang, but then makes it to the back of them. They realised they needed his strength to stay away up this hill. The peloton meanwhile doesn't seem to bothered about giving chase. Simmons leads them over the first third-category climb of Le Tour. The lead of opened to around 2' 13".
135km to go: David Hindle has a prediction to make: "Pidcock should really fancy this stage. A lot of people completely focused on Van Aert, and understandable why. But Tom Pid has bested him in a classic despite coming "second", before (actually that was an interesting story). And for the Olympic mountain bike champion, that kind of explosive, uphill finish is made to measure. So Tom Pid to beat Van Aert by slightly more than 1/1000th of a second."
They may need to chase down what has become a larger gap. Jakob Fuglsang and Quinn Simmons are on his tail.
140km to go: And Wout van Aert is in the breakaway, it's very windy, and they are being blown all over the place. This one may actually stay away, and those at the back of the peloton are suffering, Hirschi and Bennett continuing to suffer off the back.
150km to go: As predicted, the breakaway didn't last. So back we go, looking for one to hold. It might be a while.
160km to go: This breakaway looks to be failing, too, falling to Van Aert's bidding, Pogacar sat well, of course. Van der Poel and Michael Mørkøv are sat out the back of the peloton, as are George Bennett and Marc Hirschi, two of Pog's key domestiques. This is a hard day to follow a hard day.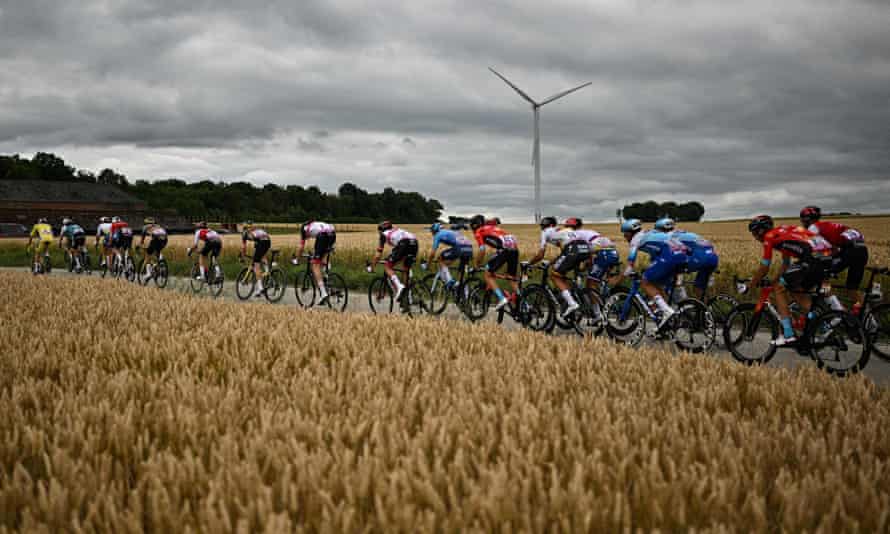 165km to go: Sagan and Van Aert up the front as the peloton chases what is not much of a breakaway, with Magnus Cort, the hero of Le Tour's weekend in Denmark, in a group of nine. Mads Pedersen, Christophe Laporte and Simon Geschke are all involved in that, but it won't be lasting too long if Van Aert continues to pull the chasing pack on his back. Once he drops back in the pack, it goes to 20 seconds of a gap. The speed is ludicrous, and it's no place for hiding.
175km to go: The breakaway is on, but this time it includes GC contenders, Pogacar, Pidcock, Thomas, Van Aert, Adam Yates and Jonas Vingegaard. There's a split in the pack that looks as if it has the manpower to escape but then it's pulled back together, as they ride over some sweeping hills, plenty of bends. This is relentless so far. No chance of a rest before they join the mountain stages tomorrow.
180km to go: Wellens and Jansen get pulled back into the pack and the leading trio don't survive much longer, as Van Aert leads the chase, then eases off as Wellens has another go off the front as Cosnefoy, Van der Hoorn and Skujins come into view. Van Aert is up there, of course, as is Pogacar, with Geraint Thomas attempting to stay in touch. Then Van Aert goes off on another dig. There's a wind, and he's trying to use it to split the pack. He has repeated digs.
190 km to go: Tim Wellens of Lotto-Soudal is chasing down the three breakaways, and Amund Grøndahl Jansen of Bike Exchange has joined the chase, the peloton continuing to loom behind him, that man Van Aert piling it on, taking it up. They are a minute behind the trio at the front, and then 49 seconds behind Wellens, who has joined forces with Jansen.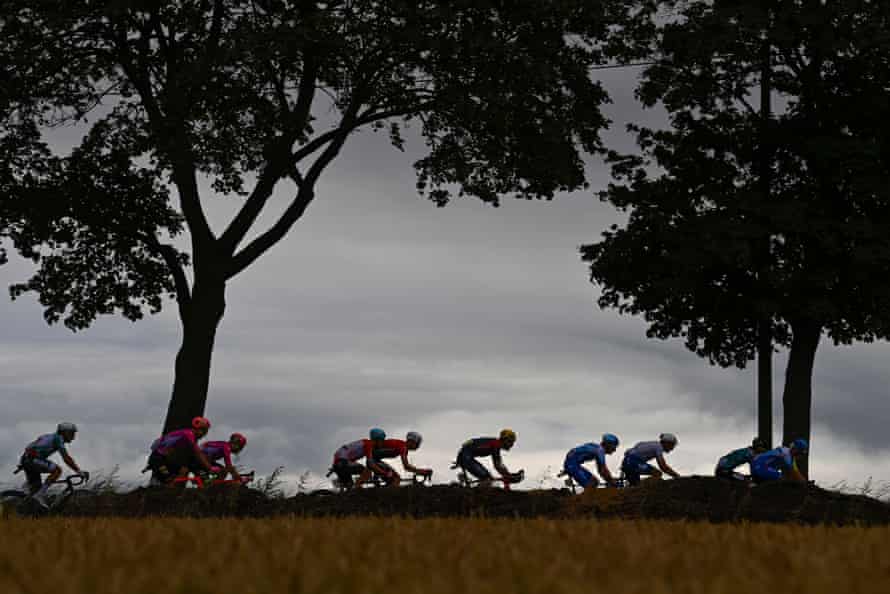 200 km to go: Pogacar is at the back of a split in the field, with Van Aert suddenly at the fore of a leading group that is peeling away in the style of a Classic race. The race is kicking off already. Incredible, after what happened yesterday. They eventually come back together, though finally someone manages to get away, three riders take ten seconds off the front, a fourth trying to join them. The three that have gone away are Benoit Cosnefoy, Taco van der Hoorn and Toms Skujins, but there's a group including Van Aert and Sagan who are chasing them down. There's 35 riders off the front in total, and the rest must chase all day.
210km to go: Still they attempt to stage breakaways, with Wout van Aert to the fore but Matthieu van der Poel, as said previously, not looking too handy. He's off the back of the peloton already. Burgaudeau's shorts meanwhile are cut to ribbons. Pogacar is handy, too. They have to alert already, and they are speeding along, stragglers being spat out the back.
217 km to go: An early faller, and there's a few of them forced off the side of the road. Just one goes down fully, and that's, Mathieu Burgaudeau of TotalEnergies, who eventually gets fixed up, and speeds back to the pack. He looks only a little bashed up.
Christian Prudhomme waves them along on the longest ride of Le Tour, and off go a couple of riders in an early breakaway. Action right from the start, with Alexis Vuillermoz of TotalEnergies leading out a huge break that doesn't last very long. Too many teams getting away quickly for that to survive.
The cobbles claimed a few victims, including the key lieutenant to Peter Sagan.
"Additional examinations revealed a fracture of a cervical vertebra requiring immobilization for a few weeks. Daniel Oss is therefore forced to leave the Tour de France… The whole team wishes you a good recovery Daniel."
Oss crashed into a spectator on the cobbles and actually finished the stage.
The other two forced to abandon were Michael Gogl (Alpecin-Deceuninck) and Jack Haig, of Bahrain Victorious, who abandoned last year, too
We're not far from the start of the race proper in Binche, and the riders are making their way through the streets to the départ reel, as they take part in the départ fictif.
Here's a couple of takes on Wednesday's events on the cobbles.
With Jumbo-Visma's leader Primoz Roglic spreadeagled on the road, the Slovenian double Tour winner made hay after his compatriot had been taken down by a roadside bale, designed to steer the riders safely through a roundabout. Even the seemingly super-powered Wout van Aert, winner of stage four, crashed, and was called on to try and help his embattled team leaders, Roglic and Jonas Vingegaard, recover lost ground.

Van Aert's efforts were enough to pull Vingegaard back to the front, but not Roglic, who lost more than two minutes to the UAE Emirates rider. "Just a shit day," Van Aert said succinctly, even though he did enough to hang on to the race leader's yellow jersey.
It was an amazing result for Clarke, who wondered if he had reached the end of his career last winter when he was left without a team.

"To have Israel ring me up and say, 'We'll give you that chance,' just gives you such a reality check to make the most of every opportunity," said Clarke.

"All year this season, I've come out in every race swinging.

"I still can't believe I got it on the line there. Taco was well ahead of me with less than 50 metres to go. I was cramping in both legs and I just lined up the biggest throw I could possibly do and I just prayed it was enough.

"I need to watch the replay, I still don't quite believe it!

"I moved to Europe when I was 16 – and I turn 36 on the second rest day [18 July]. That's 20 years in Europe and the dream finally came true!"
The Tour is the Tour, as we found on Wednesday on the cobbles, though what that usually means is that Tadej Pogacar survives when all others fall apart. That's what happened yesterday, as Wout van Aert tried his best to save his team leaders and buried himself even if he did stay in yellow, though disaster befell Primoz Roglic as he dislocated and then reset his own shoulder. Such is life on the cobbles, and to follow up, we have the longest stage of the Tour. The riders must be delighted to follow on from the carnage of Wednesday. They will be speeding along all day, and then a nasty climb not far from the flamme rouge.
Per William Fotheringham:
The longest stage of the race has a twist in the tail: the Côte de Pulventeux comes 6km from the finish, and is 800m at 12%, so steep enough to split the field before the finish up the longer, draggier, Côte des Religieuses. It is a finish made for any of the overall contenders, but all eyes will be on Van der Poel with Julian Alaphilippe absent.
Van der Poel didn't look in such good nick yesterday, so that opens up the contenders.
GC after stage five
1) Wout Van Aert (Jumbo-Visma): 16 hr 17' 22"
2) Neilson Powless (EF Education-Easypost) +13"
3) Edvald Boasson Hagen (TotalEnergies) +14"
4) Tadej Pogacar (UAE Team Emirates) +19"
5) Yves Lampaert (Quick-Step Alpha Vinyl) +25"
6) Mads Pedersen (Trek-Segafredo) +36"
7) Jonas Vingegaard (Jumbo-Visma)
8) Adam Yates (Ineos) +48"
9) Tom Pidcock (Ineos) +49"
10) Geraint Thomas (Ineos) +50"