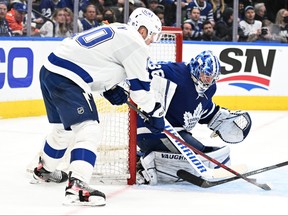 Article content
The Colorado Avalanche proved that you can win a Stanley Cup with a 32-year-old former minor-league journeyman in net. But what are the chances you can win a championship with a couple of backups who have combined for less than 20 NHL games?
Article content
It's something Kyle Dubas doesn't want to find out.
And yet, when it comes to landing a No. 1 goalie, the Toronto Maple Leafs GM currently finds himself without a seat in what has become a fierce game of musical chairs.
"It seems a little similar to last year," said Dubas. "You change the names and the teams a little bit, but a team or a goalie may be left without a spot — or a spot that either the team or the goaltender doesn't desire much."
Article content
What had seemed like a surplus has quickly turned into a scarcity, as five goalies were taken off the market in the past 48 hours at the NHL Entry Draft. They included Petr Mrazek, whom Toronto traded to Chicago; Marc-Andre Fleury, who re-signed in Minnesota; Ville Husso, who was traded from St. Louis to Detroit; Alexandar Georgiev, who was traded from the New York Rangers to Colorado; and Vitek Vanecek, who was traded from Washington to New Jersey.
Article content
Any one of them — including Mrazek — would have been an upgrade over Erik Kallgren or Joseph Woll, who are the only goalies Toronto currently has under contract.
"We were looking at everybody," said Dubas. "So it's safe to say that everybody that was moved … or signed with their own team was on our list."
So who's left on their list?
Well, not much.
There's Jack Campbell, a pending free agent who hasn't closed the door on returning to Toronto. There's Darcy Kuemper, who is heading to the open market after having just won a Stanley Cup in Colorado. And unless you plan on having Braden Holtby as your starter, there's a bunch of third-stringers who you wouldn't even want as your backup.
Complicating matters is that the Leafs are not the only team in need of a goalie. Do the math. With Edmonton, Washington and Buffalo also on the hunt for a No. 1, one or two teams are going to be left without a goalie when the music stops and the season begins.
Article content
In other words, Dubas better act fast. And he be prepared to bring his wallet.
The cost of re-acquiring Campbell just went up again. The same goes for Kuemper, who priced himself out of Colorado after winning a Stanley Cup.
Maybe that is why Dubas was willing to package a first-round pick with Mrazek, which freed up $3.8-million under the cap. And maybe that is also why he hasn't ruled out filling the position through a trade, with the team rumoured to be interested in Ottawa's Matt Murray and Anaheim's John Gibson.
Even then, the teams that are willing to make a trade are aware that the Leafs are at a strategic disadvantage — and could make them pay for it. This has now turned into a sellers market.
"My phone isn't working at present. So it's great that everyone was here. Hopefully, by the time we get back to Toronto, we'll be back in action," said Dubas. "You get a good sense of where the market is at and where it's going and who's available and what the cost is going to be in trade.
Article content
When asked if the Leafs were close to making a trade, Dubas sounded like someone who was still playing the field.
"I think it's more information gathering at this time," he said. "I think depending on who you talk to, they might think it's closer. But I think you know from our perspective, we're a team that obviously has an open slot. So teams with excess may feel that things are very close with us, when we're just surveying all the options."
Dubas might not feel any pressure to make a move, but this is not an ideal situation for a team that intends on challenging for a Cup. While Colorado showed that you don't necessarily need a Vezina Trophy winner in net, you still need a goalie who can stay healthy and stop the occasional shot.
Article content
Can Kallgren or Woll be that guy? Maybe in the future. But you wouldn't want to go into the season with them as your tandem.
And yet, Dubas, who drafted Swedish goalie Dennis Hildeby in the fourth round on Friday, remains confident that they'll eventually get their guy. Even if it's not necessarily the guy they initially wanted.
"I think the way that we look at it is last year we signed Petr, Colorado — when their goaltender (Philip Grubauer) signed with Seattle — were left at the end and then they just elected that they were going to pay the price (and signed Kuemper) and it ended up paying off for them quite well. There's always that option. If it comes down where we're at as an organization and we get through the next week, it's not going to be the end of the journey. We're going to do everything we can to get our team in the best spot and build the position the way we need.
"It still remains the key for us."