De Minaur 6-3, 4-3 Broady*
Big, gusty hold from the Stockport lad. A crashing, whipped overhead from De Minaur takes him to 30-0 up on his opponent's serve, then Broady nets from the baseline to present three break points. The first is saved when Broady prevails in a rally by coming to the net. De Minaur's powers of recovery take some grinding down, though he can't return Broady's next serve. Then, Broady sends De Minaur running, and then chops a backhand drop to go to deuce. Two fine serves cannot be returned and Broady punches the air in delight.
Anisomova, meanwhile, has broken back, and it's back with serve at 2-3 with Gauff.
De Minaur* 6-3, 4-2 Broady
Broady have De Minaur something of a scare there, only for the Australian to hold his serve in the end.
Good afternoon, all. Thanks, Will and Gregg, for their sterling service. I join the throng with both Liam Broady and Amanda Anismova in a bit of trouble. Some housekeeping: the denotes next server thing I shall abandon due to it confusing me with every change of server. *now denotes current server.
De Minaur* 6-3, 3-2 Broady (* denotes next server)
Ah, hard luck Broady. De Minaur has broken again. And, with that, I'll hand over to tennis aficionado John Brewin. Enjoy!
Elsewhere, Coco Gauff has charged into a 3-0 lead against her fellow American Amanda Anisimova. Botic van de Zandschulp leads Richard Gasquet 2-1 in the third set, having won the first but lost the second, while Jason Kubler is 4-3 up in the fourth set against Jack Sock and Cristian Garín is 5-4 up in the fourth against Jenson Brooksby. Both Sock and Garín currently lead two sets to one.
De Minaur 6-3, 2-2 Broady* (* denotes next server)
De Minaur is a bit good, isn't he? He holds to love, leaving Broady stranded with several thumping serves and ending on his eighth ace of the match for good measure.
De Minaur* 6-3, 1-2 Broady (* denotes next server)
De Minaur earns two break points but Broady defends them both, the latter with his first ace of the match. At deuce, Broady loses a stinging rally after being manoeuvred into the corner of the court, but hits back with another wicked drop shot which eludes De Minaur and sees out the game from there.
De Minaur 6-3, 1-1 Broady* (* denotes next server)
De Minaur powers to 40-0, but Broady puts up some resistance and wins a couple of points. He can't quite take it to deuce, however, wafting an attempted backhand into the net.
De Minaur* 6-3, 0-1 Broady (* denotes next server)
Broady fires some big first serves down the court, dropping a single point on the way to a hold. De Minaur ended the first set with six aces to Broady's nil, so the British No 5 could do with more where that came from.
First set: De Minaur 6-3 Broady
It's a simple defence for De Minaur, who wins the game to love. Broady's path to victory is now considerably longer.
De Minaur* 5-3 Broady (* denotes next server)
Broady regains his composure on serve, but it may be too late to salvage the first set. De Minaur has the chance to serve it out.
De Minaur 5-2 Broady* (* denotes next server)
De Minaur races into a 40-0 lead and looks set for a love hold, but an exchange of venemous forehands ends with Broady lashing a winner down the line. It's a temporary reprieve, however. The British hopeful tries an ambitious slice, but it sails beyond the baseline.
De Minaur* 4-2 Broady (* denotes next server)
Suddenly De Minaur ups the tempo and Broady is under severe pressure. The Australian earns three break points, wrapping up the game with a cross-court winner which his opponent can only spoon wide.
De Minaur 3-2 Broady* (* denotes next server)
De Minaur drops a single point on the way to another straightforward hold. Time for a drinks break.
Over to De Minaur and Broady, then. Broady wins his second service game to love, finishing off with a gorgeous drop shot which leaves his opponent stretching in vain and almost stumbling into the net. The pair are level at 2-2 in the first set.
Tomljanovic beats Krejcikova 2-6, 6-4, 6-3!
Krejcikova battles hard in the final game, earning a break point but failing to take it. Tomljanovic earns advantage and then, after a brief rally, wins match point, slumping to the ground and grinning in a mixture of triumph and relief.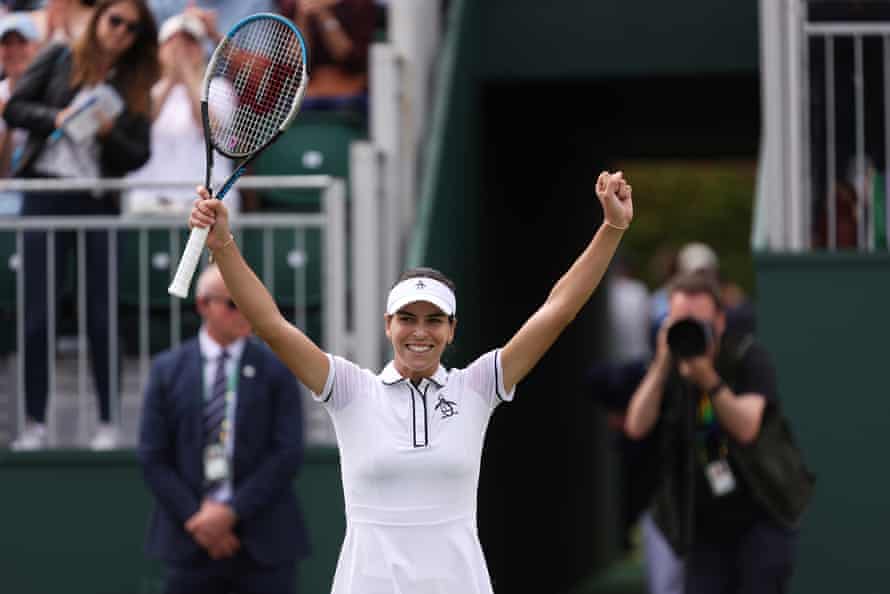 Thanks, Gregg. I'm still trying to shake off the sugar rush after necking an entire punnet of strawberries and half a pint of double cream in preparation, so let's start with the match report from Harmony Tan's demolition of Katie Boulter earlier on.
Alex de Minaur and Liam Broady have just emerged to warm up on Court No 1. I'm going to hand over to Will Magee to bring you updates for the next hour or so. Bye.
Tomljanovic battles hard to hold serve and plays some lovely tennis to bring up two break points in the next game. A delicious backhand slice across court is too low for Krejcikova to retrieve. Tomljanovic has the break and leads 4-2 in the deciding set.
Gary Naylor has a view on the low attendances at Wimbledon.
Krejcikova's movement looks good after her medical timeout and the Czech holds serve after being pushed hard by her Australian opponent. There's some heavy-hitting going on in this match now. It's 2-2 on serve in the deciding set.
Here's a flavour of the craft and skill on display from Harmony Tan as she routed Katie Boulter in straight sets earlier on.
Krejcikova is receiving a medical timeout. It looks like she may have blisters as she appears to be having strapping and a big old plaster attached to her instep. Or maybe there's a strain in that area. It's 2-1 on serve and the 13th seed appears to be fine to continue, which is good news for this absorbing match.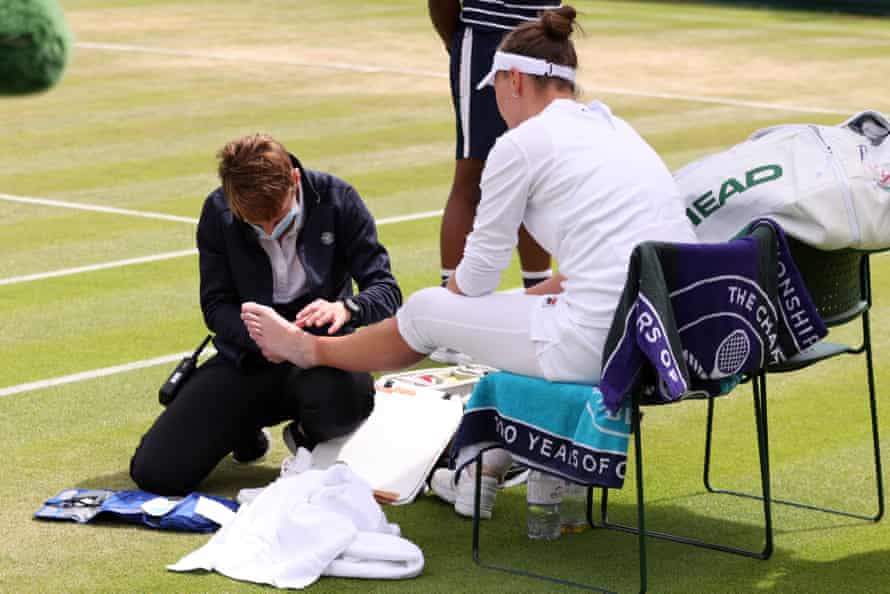 Garin has taken a two-set lead over the young American 29th seed Brooksby on Court 3. The Chilean world No 44 made it into the last 16 here last year and looks like he's going to repeat that feat.
Barbora Krejcikova has just taken a very long toilet break, which suggests she may have a problem after losing the second set. She left Tomljanovic waiting far too long and the crowd appear to have sided with the Australian as a result, who holds to 30 in the opening game of the deciding set. As suspected, Krejcikova does have a problem. She calls for the trainer but will first have to serve.
The old-timer Richard Gasquet has clearly oiled his joints because he has started like a train against 21st seed Botic van de Zandschulp on Court 2, breaking his younger Dutch opponent and racing into a 3-0 lead. Gasquet is 36 and still ranked at a respectable 69.
Tomljanovic wins the second set 6-4 to level the match against 13th seed Krejcikova at 1-1! The Australian blitzes a forehand away to break her opponent and make a real match of this. The world No 44 reached the last eight at SW19 last year. She is no pushover.
Sock holds to love to win the second set against Kubler 6-4 and level the match at 1-1. Sock has had an awful time with injuries and it's hard to know how deep he might go here. He has been ranked as high as No 8 in his career and is still only 29. He's now ranked 103 and certainly has the pedigree to beat Kubler (world No 99).
The crowds at Wimbledon look thin again this afternoon but, of course, they will likely swell when play gets under way on the show courts. The lower than expected attendances may be having a knock-on effect on temporary staff at the tournament. Here's the story from Tobi Thomas.
Right, so what are the scores on the board elsewhere? In the men's singles Garin leads Brooksby 6-2, 3-1. Sock is a break up at 5-3 in the second set against Kubler, having lost the first set 6-2. And in the women's singles Barbora Krejcikova is a set up against Tomljanovic but it's on serve at 3-3 in the second set.
"I don't believe [how well] I'm playing," says Tan. " It was emotional against Serena [in the first round] but I've just been playing match by match. Today was pretty good tennis. I don't know why." Tan will play either Coco Gauff or Amanda Anisimova, who play on Centre Court at 1.30pm, and neither of those will fancy that one. "Tan's probably quite glad she can concentrate on this, rather than being distracted by the doubles," writes Matt Dony, referring to the story below. Maybe Tan made a very good call after all.
Tan beats Boulter 6-1, 6-1 in 51 minutes!
Everything Tan hits appears to be landing on the line. Boulter looks discombobulated out there. She must feel like she's playing a grand slam winner, not a player ranked only three places ahead of her. Boulter is made to stretch in vain to reach a cross-court backhand and Tan has a match point. Boulter double-faults. Oh dear.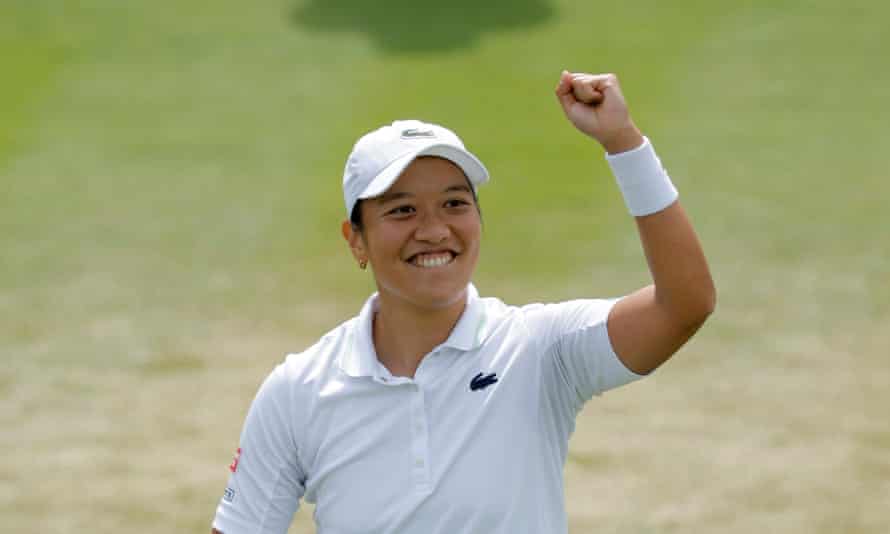 I thought this would be a close game. Tan holds to love and Boulter has to serve to stay in the match. Second set: Tan 5-1 Boulter.
Boulter is broken again. And what a point to win it for Tan, who is having a fine time out there. At 30-40, Tan retrieves a Boulter lob with a "tweener", follows it up with a delicate volley and then whips a cross-court backhand towards the tramlines that Boulter can only get her racket frame to. This isn't going to last much longer. Second set: Tan 4-1 Boulter.
In the other singles matches that started early today, 13th seed Barbora Krejcikova has won the first set against Ajla Tomljanovic 6-2, Australia's Jason Kubler has won the first set against America's Jack Sock 6-2 and Chile's Cristan Garin has a one-set lead over 29th seeded American Jenson Brooksby after winning it, also 6-2.
Boulter stays in the opening rally long enough to force Tan into an error, the Frenchwoman hitting long. But two unforced errors in a row means the opportunity to ratchet up the pressure is spurned. Tan struggles with her first serve here, though, and Boulter is back in the game at 30-30 when Tan slices a backhand wide. A vicious forehand from Boulter brings up deuce but Tan finds her groove again to hold serve. Second set: Tan 3-1 Boulter.
That's better from Boulter. A hold to love after some varied and sharp serving. Now, can she put pressure on Tan's serve? Second set: Tan 2-1 Boulter
This is just painful for Boulter. She can't win a point, never mind a game. It's an easy hold to love for Tan, with Boulter slashing wildly to give her the game. Second set: Tan 2-0 Boulter.
The crowd is really trying to get behind Boulter but the Brit can't turn the tide. She misses an easy volley at the net at 0-15 to give Tan some extra pep in her step and then Tan hits an extraordinary cross-court forehand that is called out. She challenges it and, yes, it just nicked the line. It's 0-40 and Boulter can't get back into the game. Tan breaks and leads 1-0 in the second set.
Tan holds to 15 to win the first set 6-1. The French world 115 doesn't even look out of breath. She rattles out three aces in that game.
Boulter is broken again. Tan's returns are incredibly sharp, exquisitely placed at the feet of Boulter who can't get them back. It's soon 15-40 and Boulter slams a frustrated forehand into the net. She has some thinking to do. It's 5-1 to Tan in just 24 minutes.
It's another comfortable hold to 15 for Tan. Boulter is still struggling with her tactics, unsure whether the best approach is to trade shots from the back of the court or come to the net and use her volleying prowess to good effect. Tan 4-1 Boulter.
Tan is threatening to race away with this first set. She's got great variety in her game and is sending Boulter racing back and forth around the court. She holds her own serve comfortably to take a 3-0 lead and then pushes Boulter to the limit in the fourth game, with the Brit having to battle with everything she has to hold. Tan 3-1 Boulter.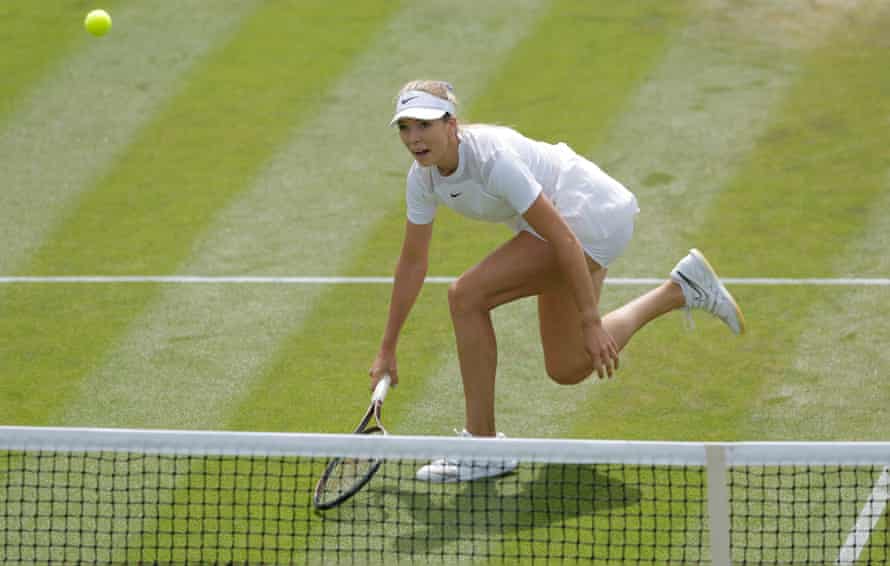 I will also be keeping my eye on 12th seed Barbora Krejcikova v Ajla Tomljanovic out on Court 12. It's 2-1 to the Czech 2021 French Open champion and on serve.
Boulter is down an early break after a nervy opening service game, in which she double-faults and has a little misfortune when Tan enjoys two net cords. Then Boulter misjudges a Tan lob, leaving it only to watch it land in the court with room to spare behind her. It's 2-0 to Tan.
We're under way on Court 2. Tan serves first in an entertaining game which features a delicate Boulter lob and a "tweener" from her French opponent who holds to 15 to take a 1-0 lead in the first set.
Katie Boulter has made her way out on to Court 2 to warm up for her third-round match against Harmony Tan. It's a lovely day for tennis, a very pleasant 20c at SW19 with a few fluffy clouds scattered around that shouldn't threaten rain.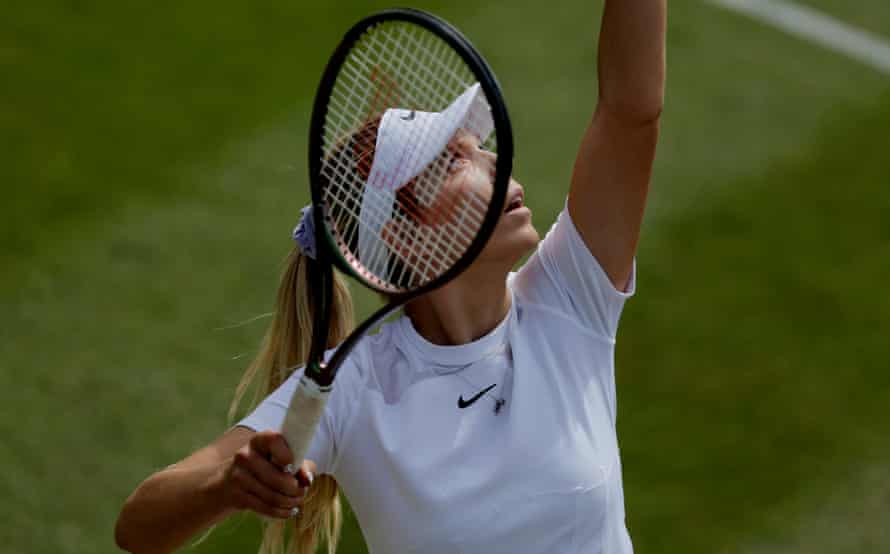 So what has caused the resurgence in British tennis at SW19? Simon Cambers reports that the team spirit forged in lockdown, plus Andy Murray's advice and Emma Raducanu's achievements, has given everyone a lift.
Order of play for Saturday
(All times BST, seeds in brackets)



Centre Court
13:30: (11) Cori Gauff (USA) v (20) Amanda Anisimova (USA), (4) Paula Badosa Gibert (Spa) v (25) Petra Kvitova (Cze), (27) Lorenzo Sonego (Ita) v (2) Rafael Nadal (Spa)
Court 1
13:00: (19) Alex De Minaur (Aus) v Liam Broady (Gbr), (1) Iga Swiatek (Pol) v Alize Cornet (Fra), Nick Kyrgios (Aus) v (4) Stefanos Tsitsipas (Gre)
Court 2
11:00: Harmony Tan (Fra) v Katie Boulter (Gbr), Richard Gasquet (Fra) v (21) Botic Van de Zandschulp (Ned), Magdalena Frech (Pol) v (16) Simona Halep (Rom)
Court 3
11:00: Christian Garin (Chi) v (29) Jenson Brooksby (USA), Alex Molcan (Svk) v (11) Taylor Harry Fritz (USA), Petra Martic (Cro) v (8) Jessica Pegula (USA)
Court 4
11:00: (4) Gonzalo Bueno (Per) v Juan Manuel La Serna (Arg), Jeremy Jin (Aus) v (3) Mili Poljicak (Cro), Kristyna Tomajkova (Cze) v (10) Annabelle Xu (Can), (8) Edas Butvilas (Lit) v Mika Brunold (Swi), Alessio Basile (Bel) v (11) Rodrigo Pacheco Mendez (Mex)
Court 5
11:00: Mia Kupres (Can) v Angella Okutoyi (Ken), Linda Klimovicova (Cze) v Michaela Laki (Gre), Paul Barbier Gazeu (Fra) v Connor Henry Van Schalkwyk (Nam), Julie Struplova (Cze) v Ella McDonald (Gbr), Aysegul Mert (Tur) v (3) Nikola Bartunkova (Cze)
Court 6
11:00: Patrick Brady (Gbr) v (15) Martyn Pawelski (Pol), Phoenix Weir (Gbr) v Alexander Blockx (Bel), Sarah Tatu (Gbr) v Celine Naef (Swi), Juan Carlos Prado Angelo (Bol) v William Jansen (Gbr), Talia Neilson Gatenby (Gbr) v Nina Vargova (Svk)
Court 7
11:00: Kalin Ivanovski (Mkd) v Luca Pow (Gbr), Henry Searle (Gbr) v (2) Jakub Mensik (Cze), Renata Jamrichova (Svk) v Jasmine Conway (Gbr), Joelle Steur (Ger) v Isabelle Lacy (Gbr), Benjamin Gusic Wan (Gbr) v Peter Privara (Svk)
Court 9
11:00 Amelia Waligora (Bel) v Anastasiya Lopata (Ukr)
Court 10
11:00: Irina Balus (Svk) v Andrea Obradovic (Ser), Peter Nad (Svk) v Jaden Weekes (Can), Ella Seidel (Ger) v Lucciana Perez Alarcon (Per), (4) Nikola Daubnerova (Svk) v Dominika Salkova (Cze)
Court 11
11:00 Sara Saito (Jpn) v Olivia Lincer (USA), (14) Lucija Ciric Bagaric (Cro) v Rose Marie Nijkamp (Ned)
Court 12
11:00: Ajla Tomljanovic (Aus) v (13) Barbora Krejcikova (Cze), Brandon Nakashima (USA) v Daniel Elahi Galan (Col)
Court 14
11:00 Hynek Barton (Cze) v Arthur Gea (Fra)
Court 15
11:00 Olaf Pieczkowski (Pol) v Ozan Colak (USA)
Court 16
11:00 Pedro Rodenas (Spa) v Matej Dodig (Cro)
Court 17
11:00 Dylan Dietrich (Swi) v (5) Nishesh Basavareddy (USA), Giorgia Pedone (Ned) v Amelie Van Impe (Bel)
Court 18
11:00: Jack Sock (USA) v Jason Kubler (Aus), Qinwen Zheng (Chn) v (17) Elena Rybakina (Kaz)
Good morning. It's already day six at Wimbledon – where did the week go? The show courts don't get going until a bit later on, with Coco Gauff v Amanda Amisova on Centre Court at 1.30pm and Alex De Minar v Liam Broady on Court No 1 at 1pm.
It's been a great week for British tennis, with Heather Watson and Cameron Norrie breaking new ground by reaching the fourth round of a grand slam for the first time in their careers and Broady and Katie Boulter have hopes of doing the same today. Boulter is not on a show court so I'll be paying particular attention to her match against Frances's Harmony Tan on Court 2 at 11am. It promises to be extremely tight, with Tan ranked 115 in the world and Boulter 118. Like her British opponent, Tan is looking to make the last 16 in a slam for the first time, too.
I'm looking forward to 4th seed Paula Badosa v 25th seed Petra Kvitova on Centre Court later, too. Kvitova has won Wimbledon twice and despite slipping down the rankings in the last couple of years, I feel she can go deep in 2022. And expect fireworks – and lots of entertaining chat – when Nick Kyrgios takes on Stefanos Tsitsipas on Court 1 later. Kyrgios just wants to be loved, you know.